Prof. Ing. Miroslav KURSA, CSc.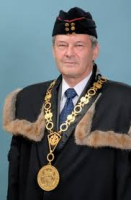 VSB - Technical University of Ostrava, Czech Republic, EU
Born on the 17th February 1947

Academic and scientific qualifications:
1971 University of Ostrava, Faculty of Materials Science and Technology
1978 Candidate Dissertation Defense
1988 Nomination - assistant professor for the field of non-ferrous metals metallurgy
1991 Habilitation in the field of non-ferrous metals metallurgy
2000 Nomination-Professor of Metallurgical Technology

Professional Practice
1971 - 1974 University of Ostrava - Assistant
1974 - 1978 VÚHŽ Dobrá - an independent researcher
1979 - 1980 - researcher
1981 - 1988 University of Ostrava - Assistant Professor
1989 - 1990 - Associate Professor
1991 - 2000 - hab. Associate Professor
1994 - 1995 VSB - TU Ostrava - Head of the Department of non-ferrous metals
1995 - 2000 - Head of Institution of Non-ferrous metals
2000 - currently VSB - TU Ostrava - Head of the Department of Non-ferrous metal, refining and recycling
1997 - 2000 Associate Dean for Development and Strategy of Faculty
2003 - currently Associate Dean for Science and Research

Specialization
His more than thirty years scientific activity is focused primarily on the metallurgy of nonferrous metals and their alloys. In the last year, he is primarily engaged in:
Metallurgy of non-ferrous metals
Low-temperature plasma utilization for melting, refining and preparing the alloys
Preparation and modification of the material properties based on intermetallic compounds of Ni-Al, Ti-Al and Ni-Ti
Crystallization processes utilization for modifying the structure and properties of materials based on non-ferrous metals
Powder metallurgy of nonferrous metals, refractory metals, alloys and compounds of these metals
He is author or co-author of more than 170 works, therefrom 3 monographs and 25 technical articles in international journals.
Since 1993, he has been a holder of 15 grants (GA ČR, MPO ČR, MŠMT). Currently, he is an investigator of the grant project GA ČR and co-investigator of 2 projects MPO ČR. Since 2005, he has been an investigator of the research plan MŠMT ČR reg. No. MSM 6198910013 entitled "Preparation processes and properties of highly pure and structurally defined special materials", which is planned for 2011. He is a PGS trainer and currently teaches 5 students.
With effect of the 1st December 2009, he has been appointed a head of unit 606, which was set up in Faculty of Materials Science and Technology to deal with EU projects. There has been solved, of the 15th February 2010, a project entitled "Regional material technology research center" within the Operational Programme Research and Development for Innovation, Priority Axis 2.
He is a member of the Board of doctoral study program "Chemistry and Technology of Materials" fields "Physical metallurgy and material limit stages" and "Chemical Metallurgy" at VŠCHT Prague. At VSB - Technical University Ostrava, he is a member of professional consultation of doctoral studies in the fields of "Metallurgy" and "Materials Science and Engineering. He is a member of the editorial board of "Acta Metalurgica Slovaca". Since 2007, he has been a member of the Scientific Council of Faculty of Metallurgy at Technical University of Košice.